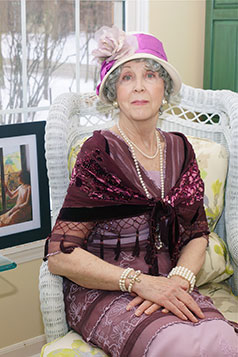 Lilla Cabot Perry
All about Her Life as an Artist,
and Her Friend, Claude Monet
Join historical storyteller, Lynn Rymarz, as she portrays Lilla Cabot Perry, an American artist. Step back in time to hear how she grew up in a prominent Boston family, and discovered her talent sketching at the age of eleven. It wasn't until she was married with children that this passion led her to pursue art lessons. She dedicated herself to learning her craft, helping her to discover her own unique style of painting portraits and scenes around her. When she and her family moved to Giverny, France, Lilla became good friends with Claude Monet, who became a mentor to her work. A move to Japan with her family influenced her paintings which earned her recognition. She also became known for her published books in poetry. She used her passion in words and her love of painting to share the beauty of the world with others.