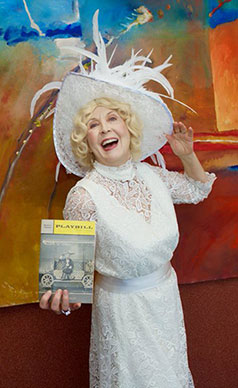 On Stage with Carol Channing: "Hello, Dolly" and More
Step back in time and join storyteller Lynn Rymarz, as she brings to life the legendary Carol Channing. Hear of her childhood dream to become a singer and dancer and the road that led her to follow her dream to star in Hollywood movies and Broadway musicals. Discover the behind the scene stories of her long running, Tony Award-winning performance in Hello Dolly, and much more. Photographs, Playbills and books will be shared.
Reviews
"Lynn's show here was fantastic: funny, informative and charming! Lynn Rymarz is perfect as Carol Channing.  Everyone I talked to came away energized and happy and we all learned something new.  We're going to invite Lynn back here to perform soon!"
— Mark Walker, Development Director,
The Center, Palos Park